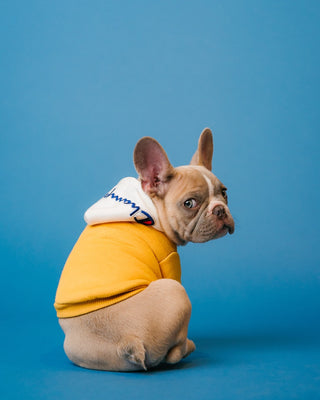 Bulldog Bark Edition 11: Health Is Wealth
Hello, Brentwood families!
As we continue to celebrate "Healthy Lifestyles" month, this week, we are focusing on the "V" in "MVP": Valuing healthy eating.
Join us at our Community PTA meeting this Thursday, November 16, at 6:30 p.m. to discuss ways to incorporate movement, healthy eating, and good habits into your family's daily lives with the owners of RAH! Power Fitness, Omar Barnhart and Tricia Jones. There will be fun activities for the kids during the meeting, so feel free to bring them along!
New and Improved
Good news! Austin ISD has rolled out a new unified enrollment system. Dubbed Enroll Austin, the system launched on November 8 and is designed to make registration quicker and easier.
For next year's 2024-25 enrollment cycle, Enroll Austin will consolidate Online Registration, Online Student Transfer Requests, the Common Application, and Pre-K Applications into one streamlined system. If you've previously used AISD Portal to register, you should visit the portal and select the "Enroll" tile.
Students who are considering more than one school will be able to rank up to seven campuses.
Registration will be split into Priority and General registration periods. Priority registration will end in early March, when the system will assign each applicant to their highest ranked school based on eligibility and availability of seats.
It is important to note that your child may have been accepted into one or more of the campuses they applied to and ranked, but Enroll Austin will only offer 1 seat. You will need to contact the other programs directly if you or your child choose not to accept your offered seat
Note that some special programs only accept applications during Priority Registration, thus families who wait for the General Registration period are less likely to get into their top-ranked school.
Support the Girl Scouts
Need to sneak in some shopping? Or just looking for a little downtime away from the kids before winter break? Well, you're in luck! The 5th Grade Troop 42625 is hosting a babysitting night on December 15. Drop your kindergarten through fourth-grade students off from 6 to 8:30 p.m. at Brentwood Elementary for a festive evening. Dinner will be provided. The night is capped at 30 kids. We look forward to seeing you there!
Science Fair Is Back!
Do you think you could build a car powered by nothing but air? How can you make a train run without wheels? Have you ever taken a bath with a fizzy bath bomb? Explore projects like these and more at the Brentwood Science Fair!
The Science Fair, open to all students in pre-K through 5th grade, will be held on Thursday, January 18 and Friday, January 19, 2024. Individual or group projects are welcomed; multi-age groups will be judged according to the grade of the oldest student. Top projects in grades 3 through 5 will advance to the Regional Science Fair in late February.
Check out all the details here, where you can sign up to participate and download a detailed information packet. Don't delay—your student can work on their project over the upcoming fall and winter breaks!
Name That Bulldog
Help us choose a name for our bulldog mascot! For pre-K through 2nd graders, include your first and last name along with your homeroom teacher and then fill in the blanks for the following sentences:
I want to name the bulldog mascot ________. This is the best name because _________. _________'s favorite life skill is _____________.
Any other details are welcome!
For 3rd, 4th, and 5th graders, include the same personal information and then write a minimum of 5 sentences about why you feel our mascot should have the name you suggest. 
In addition, any students have the option to add a drawing of our mascot showing their life skill. Submissions are due by December 15 in a box located in the front office. We will announce the winner at the first Friday assembly of the spring 2024 semester!
Happy Holidays
ATX Ballers will be offering half-day co-ed basketball camps for kids ages pre-K through 9th grade during the upcoming holidays. Dates include November 20-22, December 27-29, and January 2-5. Sibling discounts and financial scholarships are available.
Calling All 5th Grade Boys
The Gus Garcia Young Men's Leadership Academy is hosting a fall festival at their campus. The event, on November 16 from 5:30-7 p.m., will feature games, raffles, food, music, and more. Admission is free for 5th graders (with flyer below; see Ms. McKenna for copies) and $2 for adults.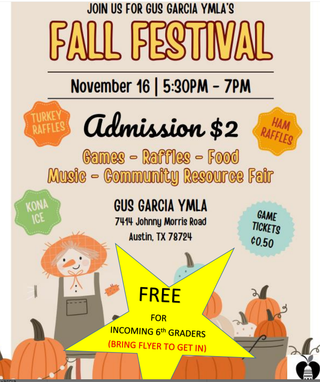 Winter Is Coming
Girl Scout Troop 42625 is collecting coats as part of the drive Coats for Kids, running from November 6 through December 2. Find the donation bin in the community room (brightly wrapped in holiday paper). Coats for Kids is especially in need of coats sizes 7/8 and 10/12. Don't have any coats but want to participate? Every $20 donated to Coats for Kids buys a new coat for a child in need. Donate at jlaustin.org/coats, or text "GIVEATX" to 243725. You can also choose from the Coats for Kids gift registry and it will be delivered directly to the Junior League of Austin to be distributed.
How Do You Spell "Fun"?
If you haven't heard, registration for the Fall 2023 Brentwood Spelling Bee is now open! Bulldogs in grades 1 through 5 can sign up using this form. The Bee will be held onstage in the gym on Thursday, December 14 at 5:30 p.m. Practice sessions will be held in advance, and study guides will be emailed to parents/guardians once your Bulldog is signed up. Contact Grace Lubeck Boden or Rachel Gossen with questions: glubeckboden@gmail.com, rachel.gossen@gmail.com
Friends in Need
Brentwood has a long tradition of donating H-E-B gift cards to Bulldog families in need. Our counselor, Ms. McKenna, will identify and distribute donated gift cards to families that need a little extra love. Any amount is appreciated. 
You can drop off physical gift cards for Ms. McKenna in the office or email electronic gift cards to tess.mckenna@austinisd.org. Bulldogs support Bulldogs!
Raid the Recycling Bin
The awesome art teachers are in need newspapers. Please leave them by the art room doors or in the community room.
Volunteers Needed!
We still need more volunteers for the upcoming Thanksgiving Lunch. If you can help, even for 30 minutes, and didn't received the volunteer sign-up information yet, please email volunteer@brentwoodpta.com.
Shout Out
A special thanks goes out to Kosmic Kombucha, who donated their tasty kombucha to teachers and staff after the Halloween Carnival. It's an AMAZING gift!
Build Up the Bulldog Fund
Brentwood PTA runs an annual, one-time per year, no-hassle fundraiser we call the Bulldog Fund. The funds collected are used for important programming like literacy and math software, library books, music, art, and more! Donate HERE.
Publish With Us
Have a program, event, or volunteer need that you want published in the Bulldog Bark, on the PTA website, or on social channels? Email communications@brentwoodpta.com.