Important Things to Note
The school day starts at 7:30am (the late bell is 7:45am) and ends at 3:10pm.
Parents are not allowed inside the building for arrival and dismissal.
Please set expectations with your child that they will be greeted by teachers and staff who will help direct them to and from their classroom!
Do not park in the parking lot, as it intended for teachers and staff. Please note that there are limited parking spots available in the parking lot for persons with disabilities.
Arrival Guidelines
School doors open at 7:10am. Do not bring your child to school before this time.
School starts at 7:30am. The late bell rings at 7:45am.
Car riders must use the circle drive located at the front entrance near Brentwood Avenue and Yates Avenue.
Walkers and bikers may use the Yates entrance (front), Arroyo Seco entrance (back), or blacktop entrance (Brentwood).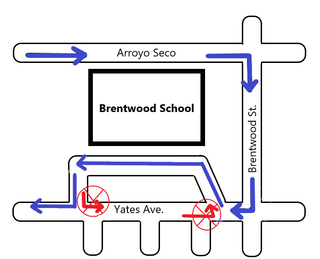 Dismissal Guidelines
Students will have staggered dismissal times. We will start releasing students around 3:05pm at the beginning of the year as it generally takes longer to learn the systems.
All students who are not picked up by 3:20pm and are not enrolled in after care will be guided to the office while parents are called.
ALL PK AND KINDER students will be picked up at the front of the building. If your PK/Kinder student has an older sibling, please plan to pick both up at the front and let their teachers know.
WALKERS & BIKERS:
Students in PK-2 will NOT be allowed to walk home by themselves.
ALL students who are walking/biking with older siblings or by themselves (4th & 5th only) need to have this this form submitted by their parent/guardian.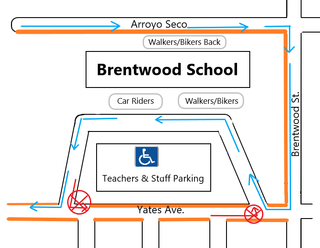 Other Reminders
For the safety of all, parents and students need to cross at the designated crosswalk. Do not cross through any traffic. Watch for cars and walk in all areas. There is a lot of traffic and many pedestrians moving around at dismissal. For everyone's safety, please have your full attention on getting your children to their car safely.
When dismissal plans change, send a note to teacher in the morning with the new information or call the office prior to 2pm. After 2pm, changes in transportation are not guaranteed to be communicated.
Remember that there is a $200 fine for talking or texting while driving in a school zone. Our front circle drive and side parking lot is part of the school zone beginning at 3pm.
DO NOT PASS any school bus that has flashing lights and the stop sign displayed. Buses have cameras that will send you an automatic ticket for passing a school bus.
We kindly request that you leave all dogs at home when dropping off or picking students up on foot. While your dog may be the nicest dog around, unexpected reactions from children, adults, and pets may occur.
Arrival & Dismissal Instructional Video