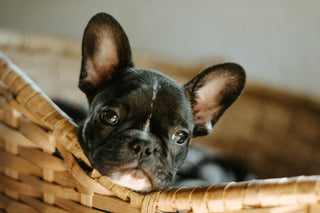 '23/'24 Edition 10: Honoring Native and Indigenous People
Brentwood families,
November is upon us, and in addition to signaling the beginning of the holiday season, this month is also Native and Indigenous Heritage Month—a time to honor the culture and history of Indigenous people and to celebrate the important contributions and rich, diverse traditions of Native Americans. It's also an opportunity to acknowledge their hardship and challenges, both throughout history and today.
Did you know? 
There are more than 9 million Native Americans living in the U.S.
There are 500+ federally recognized tribes.
When in doubt, ask! In the U.S., Native American is the most common term, but some Native people may prefer terms like American Indian or Indigenous American. The National Museum of the American Indian recommends that, when referring to groups of people, it's best to use the individual tribal name if possible. 
For tens of thousands of years, Central Texas was home to Comanche, Caddo, Cherokee, Coahiltecan, Lipan Apache, Karankawa, Tonkawa, Wichita, and other nations. However, several waves of disease and violence brought from white settlers has eradicated much of Central Texas' Native American population. Today, it is estimated that 12,000 Travis County residents identify as American Indian.
Learn more about Central Texas' Indigenous history and culture by:
Turkey with all the Fixin's
November also means it's almost time for the annual Thanksgiving Lunch at Brentwood. Note that tickets will ONLY be on sale next week, beginning tomorrow through Thursday at the school's front entrance. You must buy a ticket beforehand to ensure that the cafeteria purchases enough food. 
Lunch for pre-K through 2nd grade families will be November 15, and 3rd through 5th grade will be November 16. Lunch will be $5; students may use their School Cafe account if they have one. Please bring exact change. 
An RSVP form will also be required. Scan the QR code below to complete a form for each day you will be attending. If you do not want lunch but still want to attend, simply fill out the RSVP form. Everyone will need to have their IDs scanned by the front office prior to the event.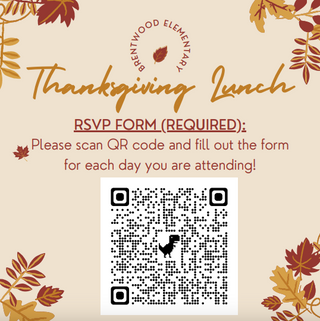 Movie Night at Brentwood
Get ready for Fall Movie Night, taking place this Friday, November 3 on the blacktop. Show up at 6 p.m. with snacks or dinner and a blanket; the show starts at 6:30.
Author Week at the Library
Nathan Hale, author of the popular Hazardous Tales series will be at Brentwood on Tuesday, November 14, presenting to 2nd, 3rd, 4th, and 5th grade students, which coincides with the release day of his new book, Above the Trenches! 
Robyn McGrath is the author of Dolly! and There's Always Room for One More. She will be presenting on Thursday, November 16 to Kindergarten and 1st Grade. Students can get copies of either author's book to be autographed following the presentations; use this link to order. The Brentwood PTA is providing funds to pay these talented authors.
Happy Halloween!
A special thank you goes out to our community for volunteering, donating, and supporting performers at this year's fantastic Halloween Carnival! We appreciate everyone's flexibility with the last-minute weather-induced changes.
There were more than 120 student volunteers and 50 adult volunteers helping pull off the monumental event. We want to extend a big shout-out to our committee members, Hindatu Mohammed, Mary-Kevin Stuart, Kanako Lickteig, Kat Stark, Courtney Browder, and Jesep Myers for organizing the Bake Sale. And a big thank you to our Haunted House crew led by Ryan Mire, Sterling Allen, Marcus Gavin, Asa Kirby, Elliot Myers, Woody Harrison, Seth Holloway, Jake Wegman, Ryan Verret, Patrick Stuart, June Ella Martinez, Karen Short, and the leader of the ghouls Amy Woodell.
We so appreciate Girl Scout troops #42619, #42625, #42757 for running a booth, the Lamar Dance Company, the Lamar Choir, and the McCallum Blue Brigade for their amazing performances, and, of course, thanks in particular to our sponsors below as well as Lott Brothers Construction for loaning us their generator and Dia's Market for providing dinner for our many volunteers!
Ally Medical, Art Garage, Club Z Tutoring Services, Chaparral Ice, Dance Discovery, Dia's Market, Eldorado Cafe, Hotworx, Make at Rosie, Native Edge Landscaping, Kona Ice, Kosmic Kombucha, Outdoor Renovations, Sherwood Pediatric Dentistry, Allandale Vet Clinic
Were you inspired to get involved with the Carnival? It's never too early to reach out to volunteer@brentwoodpta.com to express your interest.
Calling All Spellers
Registration for the Fall 2023 Brentwood Spelling Bee is now open! Bulldogs in grades 1 through 5 who would like to participate can sign up using this form. The Bee will be held onstage in the gym on Thursday, December 14, 2023 at 5:30 pm. New for this year is a sensory-friendly option of using a small dry-erase board to aid in constructing words before spelling into the microphone. We will hold 2 to 3 practice sessions in advance of the Bee, so spellers can get familiar with the format and practice with the microphone and dry-erase board. Word lists, study guides, and more will be emailed to parents/guardians once your Bulldog is signed up. 
Participating in the Bee can be a great way to make new friends, enhance vocabulary, improve public speaking skills, and gain practice in friendly, supportive competition. Contact Grace Lubeck Boden or Rachel Gossen with questions: glubeckboden@gmail.com, rachel.gossen@gmail.com
Middle School Applications Reminder
For families of 5th graders, here is some important information for you to be aware of:
Students who are zoned for Brentwood Elementary will have admission to Lamar Middle School. 
For students interested in the Fine Arts Academy program at Lamar, or are interested in attending a different AISD magnet, there is an application process that starts in November. 
The common application (which allows students to apply to multiple schools) opens November 8, 2023 and will be due on February 6, 2024. There are many factors that go into applying…. Do not wait until January or February to start!
Magnet schools have different requirements and different focus areas; your student will need to provide additional materials and/or interviews, such as teacher recommendation letters, art portfolios, essays, and testing. 
Each campus offers information sessions to help your student make an informed decision on where to apply.
There are a limited number of spots available, and this depends on the number of in-district students in attendance each year. 
Lamar Middle School is offering two presentations about its Fine Arts Academy on November 11, one from 9:30-10:30 a.m., and a second from 11 a.m.-12 p.m. 
Bullying vs. Conflict Presentation
Thank you to everybody who attended the recent Principal Coffee Chat! If you were not able to attend, here is the Bullying vs. Conflict Presentation. The video recording of the session is available upon request. Please email our counselor, Tess McKenna, at tess.mckenna@austinisd.org if you would like for her to send you the video recording and/or if you have any questions.
Join the Birthday Book Club! 
How does the club work? During their birthday month (or October or May if the date falls during September or the summer months), your child will come to the library and choose from a special batch of brand-new books to become their birthday book.
Your child's birthday book will include a bookplate with their name and birth date, and they will be the first person to check it out from the library. The book will then become part of the library collection. A photo of your child and their birthday book will be shown in the library and emailed to families.
Forms and payments for Birthday Book Club books are due by December 1, 2023. 
If you would like to participate, complete this form (one per student) and pay $15 for your child's birthday book through SchoolCashOnline. Questions? Call 512-414-2039 (ext. 52594) or email erin.tigelaar@austinisd.org and kate.slaten@austinisd.org.
In other library news, we would like to thank our anonymous donor for Brentwood's new library book truck! We are so excited to have to have an additional resource to move books around the library. Thanks for your support!
Gift Cards for Families in Need
Did you know that Brentwood has a long tradition of donating H-E-B gift cards to our Bulldog families that could use some extra support? Our counselor Ms. McKenna will identify and distribute donated gift cards to families that need a little extra love and support. Any amount of donation is appreciated and these gift cards are especially helpful as the holiday season approaches. 
You can drop off physical gift cards for Ms. McKenna in the office or email electronic gift cards to tess.mckenna@austinisd.org. Bulldogs support Bulldogs! Thank you for caring for our Bulldog community.
Community Events
Did you know there is a Brentwood Elementary Art Exhibit at Brentwood Social House? The exhibit features artwork from our very own Bulldogs! There will be a public reception at Brentwood Social House on Saturday, November 4 from 3-5 p.m. All are welcome. To stay up to date on all of the exciting things happening in the art classrooms, follow @bwoodbulldogart on Instagram.
Speaking of Art…
The amazing art teachers are in need of as many cereal boxes as possible. Any other large-ish boxes made out of the same type of cardboard/tagboard would be greatly appreciated. Please leave boxes by the art room doors or the community room.
Saving the Dates
Remember to subscribe to our new Brentwood Elementary Google Calendar to stay up-to-date on upcoming school events, holidays, and PTA activities.
Call for Entries
Have a program, event, or volunteer need that you want published in the Bulldog Bark, PTA website or social channels? Email communications@brentwoodpta.com.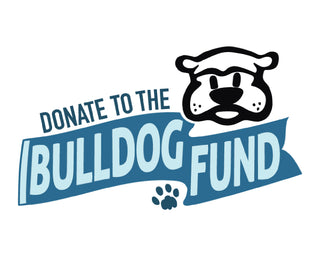 Donated to the Bulldog Fund Yet?
Brentwood PTA runs an annual, one-time per year, no-hassle fundraiser we call The Bulldog Fund. The funds collected from The Bulldog Fund are used for important programming like literacy and math software, library books, music, art and more! Donate HERE.
Get to know our PTA Sponsors!
Leader of the Pack:
Allandale Veterinary Clinic